EHN Thanksgiving 2013
13 December 2013
103,000 views
One Comment
Every Thanksgiving, the Environmental Health Network hosts a beautiful dinner for our members.  We provide the turkey and fixings.  The rest is potluck.  We hold it in the community room of Ecology House, a HUD housing complex in San Rafael, California, for people with chemical sensitivity.  This year we had 17 people.
Food is our medicine!  We don't skimp when it comes to buying organic fresh food. We balance the budget by making everything from scratch.  This year, EHN Board President Connie Barker made two turkeys, two kinds of stuffing, gravy, and sweet potatoes (okay, she bought the cranberry sauce).  Here she is (left) with Board Member Juliene Lipson, provider of ovens.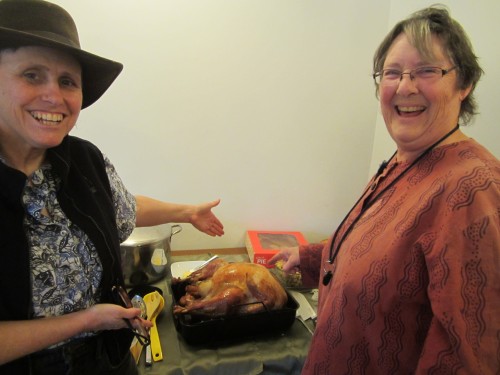 Because so many of our members have food allergies, we ask people to label their offerings.  To avoid cross contamination of some of those allergens, we had a vegan table.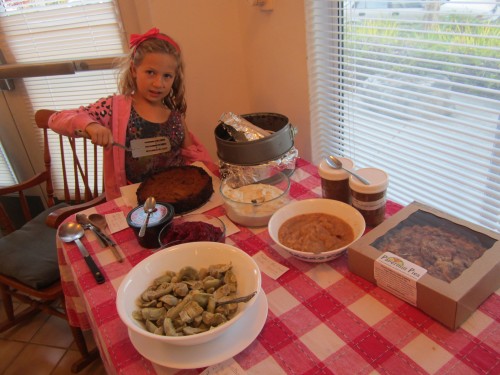 Miriam serves up some vegan gluten-free pumpkin pie on a table surrounded by other vegan goodies.  Here's the other side.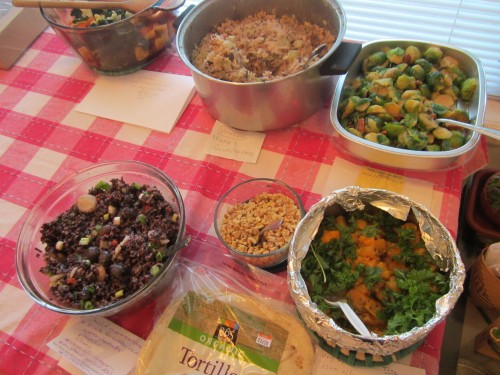 Our guests come from a variety of life situations.  Bringing a potluck item is always optional and we never charge anything to attend.  We ended up with a lovely spread though.  Here are some highlights:
This year was special because it was the first time that Thanksgiving was late enough and Chanukah early enough to merge into their own holiday, Thanksgivukah.  We unlit a menorah with Goodlights sustaintable palm wax candles (unlit because too many of us react to burning things, even all natural things).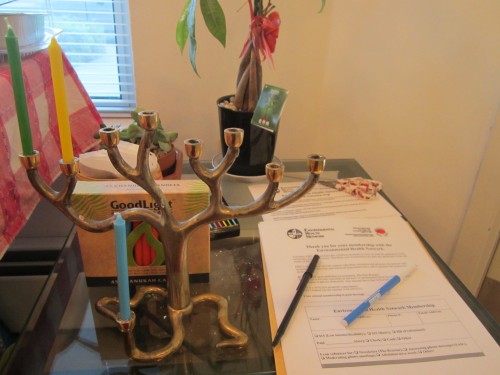 And of course we had sweet potato latkes with cranberry applesauce.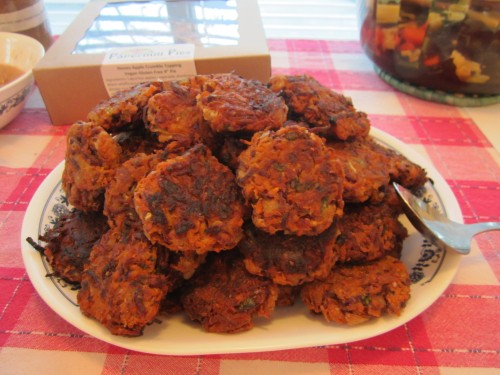 All people with chemical sensitivity, and their friends and families, are welcome to join us anytime.   Thank you for your support.  From all of us here at EHN.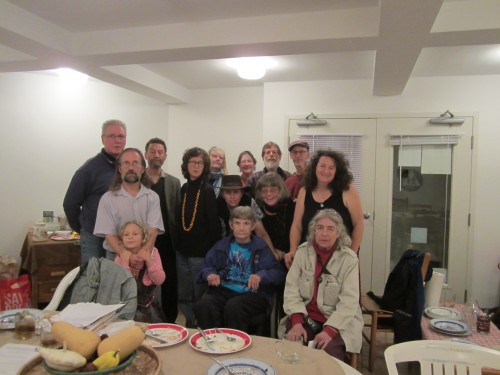 .