Barbara Wilkie Memorial Service
28 July 2011
48,503 views
No Comment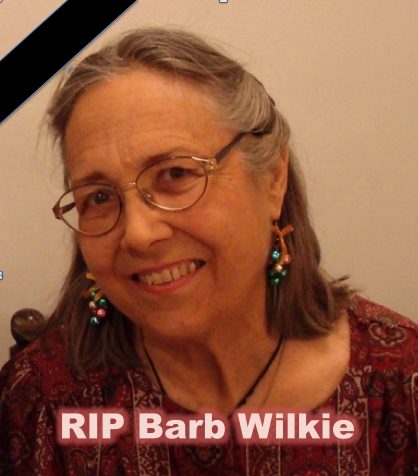 Barbara Jean Wilkie was born on July 18, 1938 and passed away on Tuesday, May 31, 2011, due to kidney failure secondary to chemical injury.
To share memories of Barb, please CLICK HERE.
For Wilkie Wages War, Barb's writings, please CLICK HERE.
The Environmental Health Network is hosting a memorial service and dinner in Barb's honor.
August 7, 2011 (Sunday)
2:30 pm
Dinner will be provided
Live Oak Park
1275 Walnut St, Berkeley, California 94709
We welcome everyone, including children. Barb's family and friends, EHN members, and anyone who knew either her or her work. The site is pesticide/smoke/scent free and outdoors.
We'd love to see you there, to share your memories of Barb, her work and life, and to celebrate with us. This event is free and open to all – provided you come scent free! – and RSVP is *NOT* required to attend, but in order to plan food and transportation, it will help us to know about how many people to expect, so if you're planning to come, please contact us.
Please also let us know if you need a place to stay, or transportation, or if you can provide a place to stay or transportation. We are also looking for someone who might be able to provide an hour or two of childcare during the service, and for someone who might be willing to run the video camera to record it (we'll provide the camera). If you're interested, or know a scent free and reliable teen or friend who might be, please also let us know that.
Organic food – including Barb's signature Magnani's chicken, and vegan options as well – will also be provided for all. Fine to bring your own food as necessary, but if you'd like to contribute food or drinks, please contact us first, so the meal can be coordinated.
If you can't come but would like to contribute your remembrances, thoughts, or wishes for the family, please feel free to post them on the Memories Page and they'll be read and given to the family.
We look forward too seeing you if you're able, hearing from you if you'd like, and hope that you'll hold the day and her family, her loved ones, and our community in your thoughts and prayers as we say good bye.
Meal: Roast chicken, rice, lentils, roasted root vegetables, green salad, bread, peach cobbler.  Everything is vegan except the chicken, everything is gluten-free/soy-free except the bread (and maybe some of the chicken), everything is organic, or as close as we can get, and most items are homemade.
Feel free to comment below with questions.
Directions:
FROM MARIN/SONOMA: Take the San Rafael bridge to 580 East. Take the Buchanan St (Albany) exit and continue straight until it becomes Marin Street. After 1 1/2 miles, cross The Alameda and head to a traffic circle. Take the 2nd exit on to Los Angeles Ave. Turn right onto Shattuck Ave. Take the 1st left onto Walnut St. It's on the left next to the Berkeley Art Center (not in Live Oak Park proper).
FROM POINTS SOUTH: Take 880N to 980E to 24E (or 580W to 24E). Take exit 2 to merge onto Martin Luther King Jr Way then continue onto Adeline St and then take the left hand split on to Martin Luther King Jr Way. Turn right onto University Ave. Turn left onto Shattuck Ave. Turn right onto Vine St. Take the 1st left onto Walnut St. It's on the right next to the Berkeley Art Center (not in Live Oak Park proper).