ADOPTED by the California Building Standards Commission,
November 28, 2001

For more info, including a few letters of support, please visit
Cleaner Air Signage and Pictogram -- ADOPTED!
http://ehnca.org/www/events/clnerair.htm
This black and white image of the revised -- and approved -- symbol is provided by CBSC
http://www.bsc.ca.gov/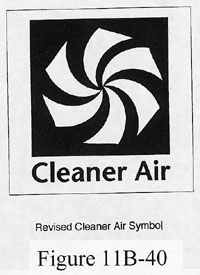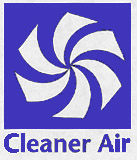 Special thanks to Michael Mankin, Chief, Office of Access Compliance, California Division of the State Architect;
Elizabeth Randolph and Linda Huber, DSA staff;
and Jim Abrams, California Hotel and Lodging Association.
Thanks also to EHN Advisory Board member Susan Molloy, and to Mary Lamielle and Dr. Lawrence Plumlee for their untiring efforts down through the years. EHN also thanks Linda McElver, President Canaries Foundation, Inc. for joining Susan, Connie Barker and me as we worked toward passage of the Cleaner Air Signage and Pictogram in California.
This revised, approved pictogram was adapted by Connie Barker, EHN
and Ecology House boards, from the black and white version provided by
the state of California. All who wanted the colored version owe her your
thanks. As do I. Thank you, Connie! -- barb




EXPRESS TERMS OF PROPOSED
BUILDING STANDARDS OF THE
DIVISION OF THE STATE ARCHITECT '
ACCESS COMPLIANCE
REGARDING THE 2001 CALIFORNIA BUILDING CODE AND
REFERENCED STANDARDS CODE,
CALIFORNIA CODE OF REGULATIONS,
TITLE 24, PARTS 2 AND 12


The entire Monograph is available as a PDF file
http://www.bsc.ca.gov/documents/45-day_period/dsaac-cbc-45-et.pdf




1117B.5.12
Cleaner-Air Sign. "STRICTLY FOR PUBLICLY FUNDED FACILITIES OR ANY FACILITIES LEASED OR RENTED BY STATE OF CALIFORNIA. NOT CONCESSIONAIRES." This symbol shall be the standard used to identify a room, facility, and paths of travel that are accessible to and usable by people who are adversely impacted by airborne chemicals or particulate(s) and/or the use of electrical fixtures and or devices. When used, the symbol shall comply with Figure 11B-40. .
1117B.5.12.1
Color and size of symbol. The symbol shall be used when the following minimum conditions are met. The symbol, which shall include the text "Cleaner Air¾ as shown, shall be displayed either as a negative or positive image within a square which is a minimum of 6-inches on each side. The symbol may be shown in black and white or in color. When color is used, it shall be Federal Blue (Color No. 15090 Federal Standard 595B) on white or white on Federal Blue, there shall be at least a 70% color contrast between the background of the sign from the surface that it is mounted on. Strictly for publicly funded public facilities or any facilities leased or rented by State of California. Not concessionaires..
1117B.5.12.2
Conditions of Use. Use of the cleaner-air symbol is voluntary. The Clean Air Symbol shall be permitted for use to identify a path of travel, and a room or a facility when the following is met:


Floor or wall coverings, floor or wall covering adhesives, carpets, or formaldehyde-emitting particleboard cabinetry, cupboards, or doors have not been installed or replaced in the previous 12-months.

Incandescent lighting provided in lieu of fluorescent or halogen lighting, and electrical systems and equipment shall be operable by or on behalf of the occupant or user of the room, facility, or path of travel.

Heating, ventilation, air conditioning and their controls shall be operable by or on behalf of the occupant or user.

To maintain "Cleaner-Air¾ designation, only non-irritating, non-toxic products will be used in cleaning, maintenance, disinfection, pest management, or for any minimal touch-ups, which are essential for occupancy of the area. Deodorizers or Fragrance Emission Devices and Systems (FEDS) shall not be used in the designated area. Pest control practices for Cleaner-Air areas shall include the use of bait stations using boric acid, sticky traps, and silicon caulk for sealing cracks and crevices. Areas shall be routinely monitored for pest problems. Additional non-toxic treatment methods, such as temperature extremes for termites, may be employed in the event of more urgent problems. These pest control practices shall not be used 48 hours prior to placement of the sign and the facility shall be ventilated with outside air for a minimum of 24-hours following use or application.

Signage shall be posted requesting occupants or users not to smoke or wear perfumes, colognes, or scented personal care products. Fragranced products shall not be used in the designated Cleaner-Air room, facility, or path of travel.

A log shall be maintained on site, accessible to the public either in person or by telephone, e-mail, Fax, or other accessible means as requested. One or more individuals shall be designated to maintain the log. The log shall record any product or practice used in the Cleaner-Air designated room, facility, or path of travel, as well as scheduled activities, which may impact the Cleaner-Air designation. The log shall also include the product label as well as the material Safety Data Sheets (MSDS).

1117B.5.12.3
Removal of symbol. If the path of travel, room and/or facility identified by the Cleaner Air Symbol should temporarily or permanently cease to meet the minimum conditions as set forth above, the Cleaner Air Symbol shall be removed and shall not be replaced until the minimum conditions are again met.
Sharon Toji accesscomm@earthlink.net
http://www.accesscommunications.bigstep.com/

For more info, including a few letters of support, please visit
Cleaner Air Signage and Pictogram -- ADOPTED!
http://ehnca.org/www/events/clnerair.htm

Return to Access Info
http://ehnca.org/www/ehnlinx/a.htm#Access

Return to Air
http://ehnca.org/www/ehnlinx/a.htm#Air

Return to Cleaner Air
http://ehnca.org/www/ehnlinx/c.htm#Cleaner
Return to Susan Molloy
http://ehnca.org/www/ehnlinx/m.htm#Molloy
Return to Posters
http://ehnca.org/www/ehnlinx/p.htm#Posters
EHN's homepage www.ehnca.org